Halloween event
Halloween event in War Robots will start soon after the update 6.6 lands.
Get coins by completing daily tasks. Use them to open special chests with new items. Each chest can give you different rewards. Press the info button to get more info on each chest.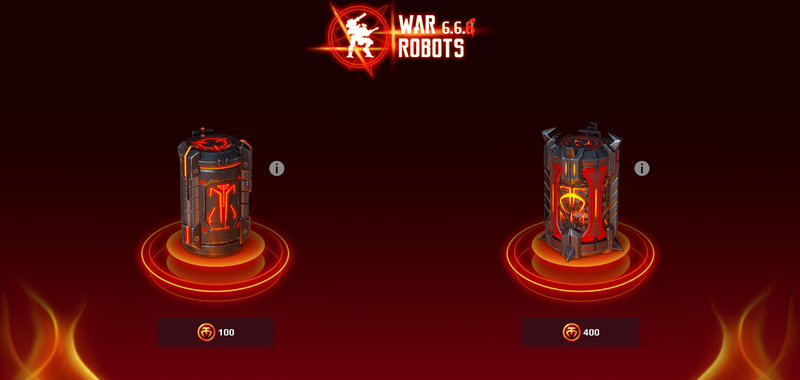 The event will be split in 2 phases, the second phase will start on November 12th. The following weapons will be added to the event chests in phase 2: Havoc, Grom, Squall.
For more details on the event, please watch the video.
Drone improvements
Free spawns, more chips, lower prices, less randomness and revamped balance — in the first round of drones improvements.
There were 3 key issues with drones that were often discussed in the community: drones are too expensive to get and maintain, they are too random and they make combat way harder to control and predict.
We looked at the issues at hand and went on to the drawing board — to figure out what we can improve right now according to your feedback.
Here's what we're changing.
1. Drone power cell costs — REMOVED
You are now able to spawn every drone for 0 power cells. Yes, that's right. Got a drone? Feel free to use it whenever you need it.
2. Randomized drone energy capacity — REMOVED
All new drones come with the maximum base energy capacity by default. All drones you already have are also bumped up to their maximum possible base capacity.
WARNING: changes to old drones' capacity might take a couple of days after the update to apply. If your drone's capacity didn't change yet, it will soon!
3. Daily Tasks with microchip rewards added
Tasks with microchip rewards will start appearing in your task log every day. Every day you'll be able to grab a couple of new T1 microchips just for playing.
4. Microchip Store updated
Microchip store refresh cost is greatly reduced: 50 for the first refresh of the day, 100 for the second and 200 for all subsequent ones.
T3 microchips will now be occasionally appearing in the store. That should let you cut your way past the combining hassle.
T2 Lockdowner, Freezer and Suppressor microchips are removed from the store due to their overwhelming effect in lower leagues. If you have them, you will be able to keep them, but getting new ones will be impossible from now on. (NOTE: you can still get their T3 versions from the microchip store)
5. More control over chip combining
Fusing together microchips of the same name will now yield you the same microchip — just with a higher tier.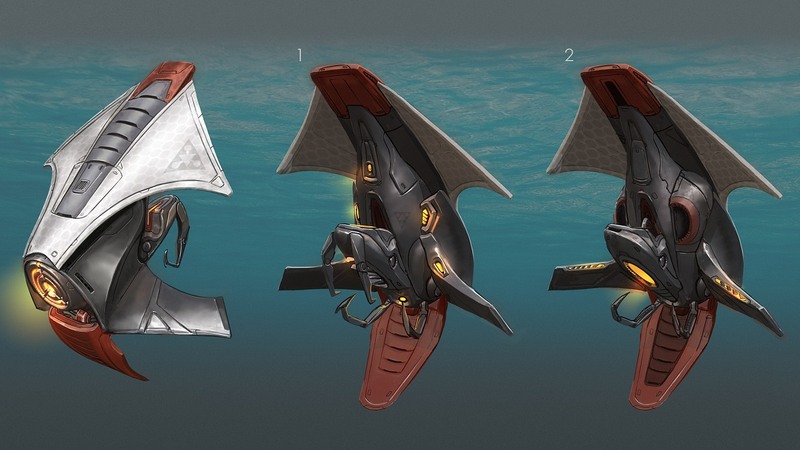 6. Microchip rebalance
1. We tune down the power of most T1 and T2 microchips. If you were using the low level chips, you will experience a slight power drop — unfortunately — but we firmly believe that this change has to be made to even out the playing field in lower leagues, where drones only start appearing.
2. Lockdowner, Freezer и Suppressor chips are nerfed. The microchips created too much uncertainty on the battlefield. They allowed every weapon to inflict status effects often even better than effect-focused weapons. That also made situational builds very tricky to use, because everyone suddenly became great at everything.
While we definitely wanted people to have access to special effects on more occasions, making Atomizers as good at locking people down as Pulsars was never the goal. We are tuning down the Lockdowner, Freezer and Suppressor chips to make them less of a must-have. You still should be able to apply effect once per magazine but it'll take a bit longer and thus give your opponent a better chance of countering you actions and making the game more interesting for both of you.
This should also highlight other options for A socket. Anticontrol-focused builds might be a good idea, especially if you don't want to dedicate a separate robot slot for the Anticontrol module (or want to have it saved as a trump card).
3. Finally, we buff lots of C and B-type chips, while also giving a slight nudge to AC-type weapon chips. Some other T3-4 chips also received buffs. For more info check the list at the end of this article.
Buffs to speed bonuses
In 6.4 we changed how movement speed bonuses stack together, so all booster-pilot-ability combinations behave in a more consistent way. Certain speed bonuses became less effective as a result — we buff their numbers to make up for that.
[Leech Pilot Skill] Thomas's Guile. Speed bonus increased x2 (15% → 30% at max T4 level).
[Regular Pilot Skill] Road Hog. Speed bonus increased x1.5 (8.2% → 12.3% / 12.5% → 18.75% at max T4 level).
[Regular Pilot Skill] Adamant Road Hog. Speed bonus increased x1.3 (25% → 32.5% at max T4 level).
[Regular Pilot Skill] Spy, Scout. Speed bonus increased x1.5 (6.25% → 9.4% at max T4 level).
[Regular Pilot Skill] Ghost. Speed bonus increased x1.1 (62.50% → 68.75% at max T4 level).
[Booster] Speed Booster. Speed bonus increased x2 (10% → 20%).
Bug fixes and QoL changes
Titans are now available at account level 25.
Fixed Fujin not taking any damage and not being able to capture beacons.
Fixed robot selection panel not appearing at the start of the match.
Fixed Alexander Frost pilot skill not increasing Cerberus built-in weapon range.
Fixed an issue that prevented players from equipping ECU on Ravana or Scorpion.
Fixed Ao Qin and Ao Guang not accelerating in flight.
Fixed Ravana moving slower than intended.
Fixed an issue that caused camera angle to reset at the end of the match countdown.
Fixed several crash cases on devices fitting the minimal requirements.
Fixed several graphical bugs in Minimal quality preset.
Complete info on microchip rebalance:
A
Control Resistor
Accum. reduction
T1
5%
5%
T2
10%
10%
T3
20%

25%

T4
30%

40%

Defence Mitigator
Def. mitigation
T1
10%

15%

T2
20%
20%
T3
50%

70%

T4
70%

100%

Acid Sprayer
DoT
T1

15

T2
30

25

T3
50
50
T4
70

80

Lockdowner
Effect accum.
T2
0.7%

0.1%

T3
1.3%

0.2%

T4
2%

0.5%

Freezer
Effect accum.
T2
0.7%

0.1%

T3
1.3%

0.2%

T4
2%

0.5%

Suppressor
Effect accum.
T2
0.7%

0.1%

T3
1.3%

0.2%

T4
2%

0.5%
B
Modulative Intensifier
Dmg. boost
T1

2%

T2
5%
5%
T3
12%

10%

T4
15%
15%
Resurgent Intensifier
Dmg. boost
T1

2%

T2
5%
5%
T3
12%

10%

T4
15%
15%
Inhibited Intensifier
Dmg. boost
T1

2%

T2
5%
5%
T3
12%

10%

T4
15%
15%
Raging Intensifier
Dmg. boost
T1
5%

3%

T2
10%

5%

T3
20%
20%
T4
30%
30%
Struggling Intensifier
Dmg. boost
T1

3%

T2
10%

5%

T3
20%
20%
T4
30%
30%
Revitalizing Intensifier
Dmg. boost
T3
5%

15%

T4
8%

20%

Unimpeded Intensifier
Dmg. boost
T1

2%

T2
5%
5%
T3
12%

10%

T4
15%
15%
Inciting Intensifier
Dmg. boost
T1

2%

T2
5%
5%
T3
12%

10%

T4
15%
15%
Thermic Intensifier
Dmg. boost
T1

2%

T2
5%
5%
T3
12%

10%

T4
15%
15%
C
Recurrent Emergency Defender
Threshold
30% HP
35% HP
Duration
5s
10s
Cooldown
10s
15s
Def. points
T1
10

5

T2
25

10

T3
35
35
T4
45

50

Recurrent Forewarning Defender
Duration
5s
10s
Cooldown
10s
15s
Def. points
T1

5

T2
10
10
T3
20
20
T4
25

35

Impaired Defender
Def. points
T1
15

7

T2
25

15

T3
45

35

T4
60
60
Inhibited Defender
Def. points
T1
15

7

T2
25

15

T3
45

35

T4
60
60
Debilitating Defender
Duration
5s
10s
Def. points
T1

5

T2
15

10

T3
25

20

T4
35
35
Arctic Defender
Duration
5s
10s
Def. points
T1

5

T2
15

10

T3
25

20

T4
35
35
Revitalizing Defender
Duration
5s
10s
Def. points
T1

5

T2
10
10
T3
20
20
T4
25

35
D
Recurrent Reconstructive Repairer
Repair
T1
10000

7000

T2
20000

10000

T3
30000
30000
T4
45000

50000

Recurrent Reconstructive Repairer
Repair
T1
5%

3%

T2
10%

8%

T3
20%
20%
T4
30%
30%
Recurrent In-trouble Repairer
Repair
T2
5000
5000
T3
10000
10000
T4
15000

20000

Recurrent In-trouble Repairer
Repair
T1

2%

T2
5%
5%
T3
8%

10%

T4
12%

15%

Recurrent Crashing Repairer
Repair
T1
15000

10000

T2
30000

20000

T3
50000
50000
T4
80000
80000
Recurrent Crashing Repairer
Repair
T1
10%

5%

T2
15%

10%

T3
25%
25%
T4
40%
40%
Recurrent Emergency Repairer
Threshold
30% HP
35% HP
Repair
T2
10000
10000
T3
15000

20000

T4
25000

30000

Recurrent Emergency Repairer
Threshold
30% HP
35% HP
Repair
T1
3%

2%

T2
5%
5%
T3
8%

10%

T4
12%

15%

Phasing Repairer
Repair
T1

2%

T2
5%
5%
T3
8%

10%

T4
12%

15%