Event: Lunar New Year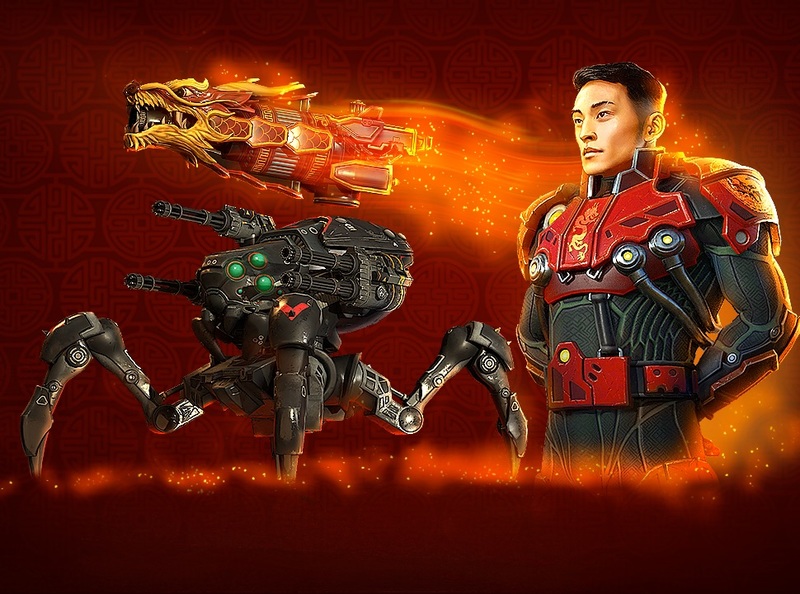 Hongbao Lottery. Complete daily tasks, get tokens, open envelopes with powerful loot!
New Special Editions: Arachnid Invader, Lunar Dragoon
New Legendary Pilot: Yang Lee (Ao Jun)
New paint jobs: Komainu Behemoth, Kylan Raven
3 unique event Skirmishes and 1 Arena weekend. They will open every weekend in this order: Skirmish - Skirmish - Arena - Skirmish
New Robot: Ravana
Coming with Lunar New Year Event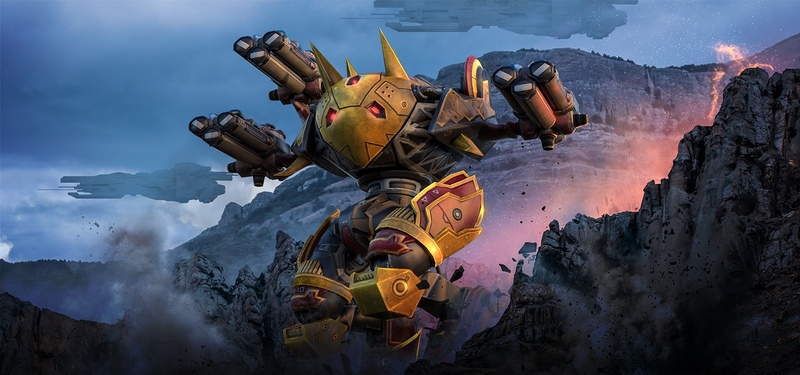 A heavy well-protected brawler that can sacrifice its firepower for a temporary speed boost and full protection against all damage and negative effects
Recommended equipment: 3x Cryo / 3x Storm
ABILITY: Transcendence
When activated, robot speeds up, becomes invulnerable and immune to all negative effects, but cannot deal damage. Activation consumes one ability charge.
Cooldown: 16 sec. per charge Duration: 3 sec. Max charges: 2
New Robot: Nightingale
Coming with Lunar New Year Event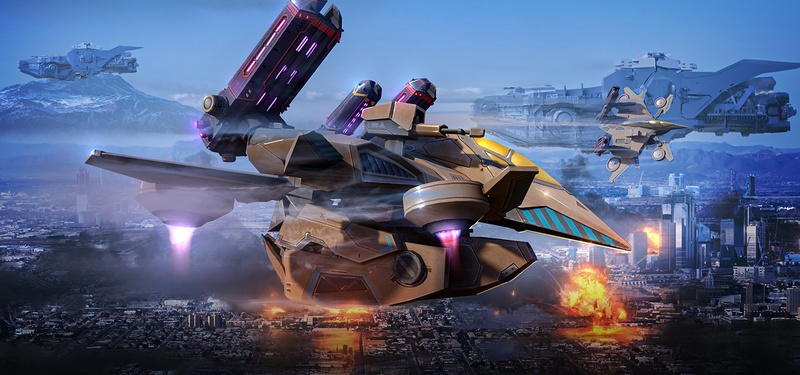 A fast, flying support robot that can repair nearby allies while in flight.
Recommended equipment: Rime + 2x Cryo / Halo + 2x Corona / Gust + 2x Storm
ABILITY: Air Support
Robot takes off and switches from its equipped weapons to a built-in weapon that lowers enemies' damage. While airborne, the robot is in stealth and repairs itself and nearby allies.
Suppression. Temporarily reduces the damage of all enemies hit by the weapon (75%)
Cooldown: 18 sec. Active: 16 sec. Built-in weapons' range: 500 m.
New Robot: Cerberus
Coming with Operation 4 (mid-February)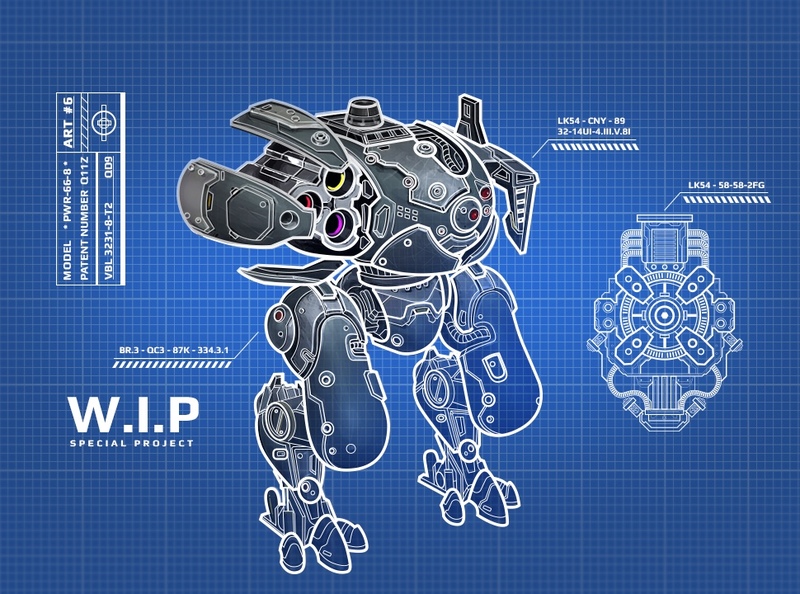 Robot created together with the War Robots Community in 2019.
A fast assault robot that can temporarily neutralize the enemy. Equipped with a unique built-in energy cannon and an Aegis energy shield.
Recommended equipment: 1x Redeemer + 2x Taran / 1x Calamity + 2x Scourge
ABILITY: Blackout
Cerberus hits the target with 3 energy charges that inflict damage and negatively affect the enemy robot's subsystems.
Lock-down. Temporarily immobilizes the enemy Suppression. Temporarily reduces the enemy's damage (50%) DoT. Inflicts damage over time to the enemy's hull
Cooldown: 10 sec. Built-in weapon's range: 350 m.
Unlocked: Titan Modules
Titans came with built-in modules, although you couldn't do anything to them up until this point. For now, we aren't introducing new module mechanics for Titans, as there's still plenty of new to try and discover. However, in this update we unlock their module menu, allowing you to experiment with existing basic modules.
Also, updated versions both of Reactor and Armor Kit modules are now available. They work exactly like damage and durability modules for regular robots.
Balance update
Rework: Halo, Corona, Glory
Lock-down now procs after certain number of hits instead of random chance
Halo, Corona and Glory will now work similarly to cryogenic weapons — meaning, that instead of locking down randomly, they will immobilize the enemy once you land a certain amount of projectiles. This mechanic has proved itself well on Cryo, Glacier and Rime, giving their users a good control over whom and how they freeze, so why shouldn't this be the case with Lock-down shotties?
As for Shredder and Pulsar (the remaining two lock-down weapons) we might give them the same treatment if things go well for Halo, Corona and Glory.
Buff: Sting, Wasp
Projectile dispersion reduced
Corrosion weapons have a very interesting uses (like, say, busting through Leech's ability), but to use them to their full potential you might need to stick to the target for a while. And for that to work, their accuracy leaves a lot to be desired. We're addressing this by reducing Sting and Wasp shot dispersion.
Nerf: Phase Shift
Cooldown: 40 → 35 sec
Duration: 5 → 3 sec
Phase Shift was conceived as a highly situational defensive module. In practice, it took robots out of the fight for too long, which — first — disrupted combat flow and — second — synergised too well with certain abilities. Say, for Leech and Pantheon this module was basically a 5 seconds cut off Repulse/Retribution cooldown, with a nice side-benefit of being able to go into full chill mode. Time to address this.
We'll keep monitoring the Phase Shift situation. More tweaks may arrive later on.
Tweaks and fixes
Skirmishes are back!
Multiple Titan-related bugfixes
Cryo reload animation now works properly
Multiple robots shouldn't pile up in the same hangar slot anymore
Titan upgrade animation is much faster now
We have also resolved multiple performance-dropping issues. The game should run significantly smoother on certain devices