Tiers were always a part of the game. We are now highlighting them with colors to help you sort out your upgrade strategies and make hangar building more intuitive overall. An item's tier defines how complex and how strong it is. From grey Tier 1 for beginners gear to golden Tier 4 for the endgame.
This will be especially useful to new players. If you've been around for a while, you probably already know which tier your armaments belong to.
We're also reducing prices in gold for some items so that they are suitable for their respective tiers.
CONCEPT BEHIND EACH TIER
You progress through the game by including more and more items of a higher tier in your hangar.
Tier 1 (Grey)
This tier is for beginners. Cheap items and very simple mechanics — ideal for learning the ropes.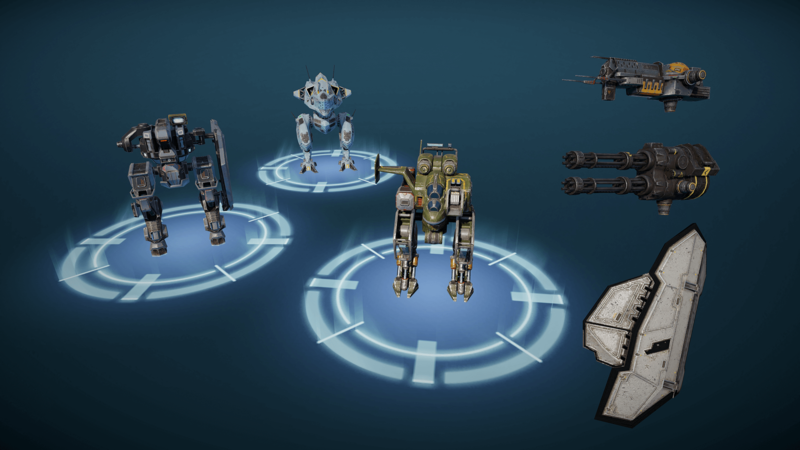 Grab yourself an old bot for a small amount of silver, give it a couple of upgrades, try it out and move on to the next one to see which gameplay fits you most. There's absolutely no need to upgrade items of this tier to the maximum. Although you may find it's a blast to ramble around on Gepard, most players usually move on to the second tier or jump straight to Tier 3.
Still, a tier is a general concept, not a strict boundary. With a bit of luck and mastery, a Tier 1 machine gun can be a thorn in a Tier 2 robot's side.
Tier 2 (Blue)
You're still probably a beginner at this point, so all the above principles apply to this tier as well. Experiment, do not max out unless you are sure you need it, hunt for the next tier.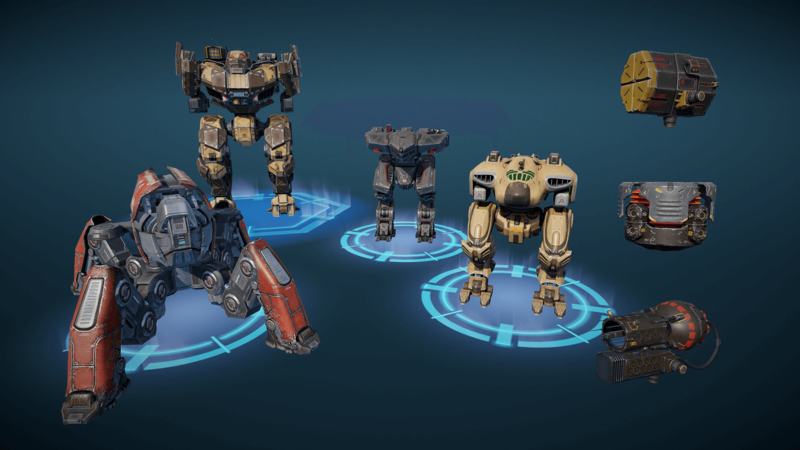 There are a couple important differences though.
This tier is much more diverse than Tier 1. Here you will find proper tanks like Leo and Raijin, a dedicated sniper, Butch, and your first flying robots, Hover, and Ao Qin. It is with tier 2 that your gameplay becomes more complex and you start mastering tactics that you will use in higher leagues. Orkan Griffin's "jump-unload-cover-reload" originates with this tier.
The blue tier also hides a handful of gems that can carry you to somewhere around Experts — with proper upgrades and skillful use of course. If you think you've found one, give it a try. If not, then on to Tier 3!
Tier 3 (Purple)
Even more mechanics (say hi to repair bots!), even more power. With Tier 3 competition begins in earnest. This equipment sets the stage for the main tier of War Robots' end-game.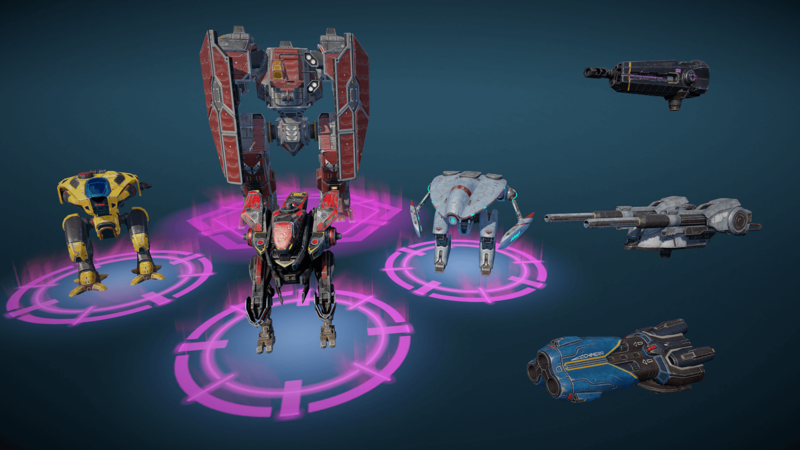 The purple color offers some interesting options that can become the backbone of a truly unique build. Search for Traditionalist Falcon on YouTube, for example, or some Strider gameplay. You will be getting some of these goods from Black Market on your way to lvl. 30.
A general advice: Most Tier 3 armaments have a stronger equivalent in Tier 4.
Tier 4 (Golden)
Here the endgame begins. The most dynamic and fierce battles are played with robots and weapons of this tier. It's also the key to the shiny Champion badge.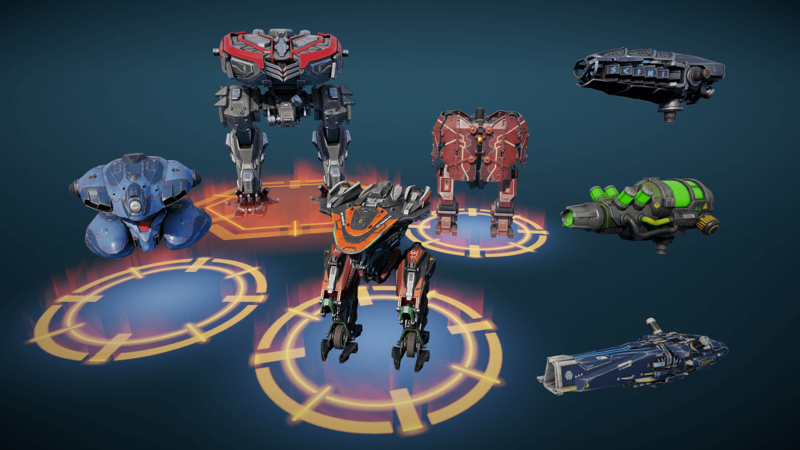 Tier 4 has more items than the previous two combined and we add more content to it with every update. It has everything you need to get the most out of the game. Numerous tactics, build patterns, exciting mechanics — it all comes with the golden gear.
Most importantly, a tier-4 hangar allows you to compete against experienced players. Battles are less chaotic and more tactical in Champions and they bring you the best rewards.
SOME COMPONENTS WILL DISAPPEAR
These items, that you could only build with components, will become available for direct purchase for gold:
Kumiho
Hover
Lancelot
Exodus
Ion
Note: If you have started building one of these five items, you have until January 24, 2022 to complete it.
Once the changes for this five items go online, you won't be able to acquire them with components. You will be able to convert or sell their components for silver, but otherwise these components will be useless. We've postponed changes for these five items, so that you have time to complete building them in case you are already halfway through. Overall, these items will now cost less.
UPD: The conversion is currently impossible, but you can still sell the amassed components for silver or assemble a piece of equipment by acquiring the missing components with gold.
PRICE ADJUSTMENTS
We reconsidered prices in gold for a bunch of robots and weapons based on their performance. For some of these items this also means a change in upgrade costs. These changes go online together with tier visuals in 7.7.
PRICE REDUCED
TIER 1
ITEM
OLD PRICE
NEW PRICE
Rogatka
1,500
1,000
Gepard
250
100
Trident
1,000
750
Aphid
750
500
Gekko
750
500
TIER 2
ITEM
OLD PRICE
NEW PRICE
Raijin
4,000
2,500
Carnage
4,000
2,500
Rhino
3,000
1,500
Kumiho
6,500
3,000
Hover
6,500
4,000
Lancelot
5,000
4,000
Trebuchet
2,000
1,500
Ancile
1,500
1,000
Ballista
2,500
1,000
Storm
2,500
2,000
Gust
2,000
1,500
Sting
2,500
2,000
Exodus
5,000
2,500
Ion
5,000
1,500
TIER 3
ITEM
OLD PRICE
NEW PRICE
Haechi
14,000
7,500
Bulgasari
14,000
7,500
Weyland
14,000
5,000
Mender
14,000
7,500
Mercury
9,500
7,500
Pursuer
9,500
7,500
Ao Guang
7,500
6,500
Raven
7,500
6,500
Inquisitor
7,500
6,500
Rayker
6,500
5,000
Loki
14,000
9,500
Spectre
14,000
9,500
Nemesis
14,000
9,500
Bulwark
14,000
9,500
Tyr
14,000
9,500
Spark
7,500
5,000
Scourge
7,500
5,000
Calamity
7,500
5,000
Marquess
7,500
5,000
Blaze
7,500
5,000
Igniter
7,500
5,000
Hussar
7,500
5,000
Ember
7,500
5,000
Dragoon
7,500
5,000
Chimera
5,000
3,000
Tempest
5,000
3,000
Thermite
5,000
3,000
Vortex
5,000
3,000
Shocktrain
5,000
4,000
Shredder
5,000
4,000
Battle Born
2,500
1,500
TIER 4
ITEM
OLD PRICE
NEW PRICE
Phantom
14,000
10,000
Blitz
14,000
12,000
Hades
14,000
12,000
Rime
7,500
6,000
Cryo
7,500
6,000
Glacier
7,500
6,000
Thermonuclear Reactor
5,000
4,000
Heavy Armor Kit
5,000
4,000
Balanced Unit
5,000
4,000
PRICE INCREASED
TIER 2
ITEM
OLD PRICE
NEW PRICE
Ao Qin
3,500
4,000
Orkan
1,200
1,500
TIER 4
ITEM
OLD PRICE
NEW PRICE
Invader
9,750
10,000
NOW AVAILABLE FOR AG
TIER 2
ITEM
OLD PRICE
NEW PRICE
Butch
3,500 Au
5,000,000 Ag
Galahad
2,500 Au
3,000,000 Ag
Arbalest
1,500 Au
1,000,000 Ag
NOW ONLY AVAILABLE FOR AU
TIER 2
ITEM
OLD PRICE
NEW PRICE
Fujin
5,000,000 Ag
2,000 Au
NOW AVAILABLE FOR PURCHASE
TIER 4
ITEM
OLD PRICE
NEW PRICE
Jaeger
N/A
12,000
Atomizer
N/A
6,000
Quarker
N/A
6,000
Nucleon
N/A
6,000
Gauss
N/A
7,500
Webber
N/A
7,500
Volt
N/A
7,500
Hornet
N/A
7,500
UPGRADE COST REDUCED
Noricum
Kang-Dae
Zenit
Kumiho
Hover
Lancelot
Exodus
Ion
Tyr
Loki
Spectre
Nemesis
Bulwark
Marquess
Blaze
Spark
Scourge
Igniter
Hussar
Ember
Dragoon
Calamity
UPGRADE COST INCREASED