Event: Among the Stars
Coming soon after the update!
Special Crates. Complete daily tasks, get tokens, open Special Crates with powerful loot
Arena makes a comeback. Compete for Gold and show everyone who's the greatest at being a Commander!
New event weapons: Freedom Pack. Avalanche, Igniter and Hussar. Limited versions — available only during the event!
New Legendary Pilots: Linda Cano and Jad Parkes, prominent hunters for old Earth's artifacts
Community Challenge. Coming soon!
Honor System Rework
In War Robots you can take lots of different approaches to winning — and we want to reward as many of those as possible.
For that, we have reworked the Honor system. Now Honor is an integral stat that shows your overall performance in battle. Beacons, kills, repairs, broken shields, and many other achievements increase your Honor and affect your standing in the combat results.
You don't have to focus on damage to be the number one anymore, as the updated Honor system takes into account even subtle actions. Show yourself as an exceptional beacon grabber, or a supporter, or whoever else you want to be in your way to victory. All the damage you deal, all the beacons you capture, all the repairs you do — everything gives your Honor and brings you closer to the next Battle Reward crate.
How to earn Honor
1. Do damage
This part speaks for itself. There's one important detail though: you get Honor not just for the hull damage, but also for damage to physical shields, energy shields and Aegis.
2. Repair
Mend, Tyrify, do whatever the heck Weyland does. It pays off in Honor now
3. Destroy
You get a shot of Honor for every last hit on an enemy robot. You get more for every next multikill, so staying alive is generally a good idea here
NOTE: In these three categories you get more Honor for interacting with stronger robots. For example, whacking a level 5 Patton is honorable, but not as honorable as if it was a level 12 Ao Jun. Same goes for kills and repairs.
4. Capture beacons
Every beacon grabbed in Beacon Rush or Domination yields a portion of Honor
5. Save up tokens in Free-For-All
Every token you have left by the end of an FFA match turns into Honor
NOTE: You also get extra honor for hitting top 3 in all the categories above.
6. Fight to the end
Stay with your team either until the end of the match or until you're out of robots
7. Win
Victories bring extra Honor. Simple!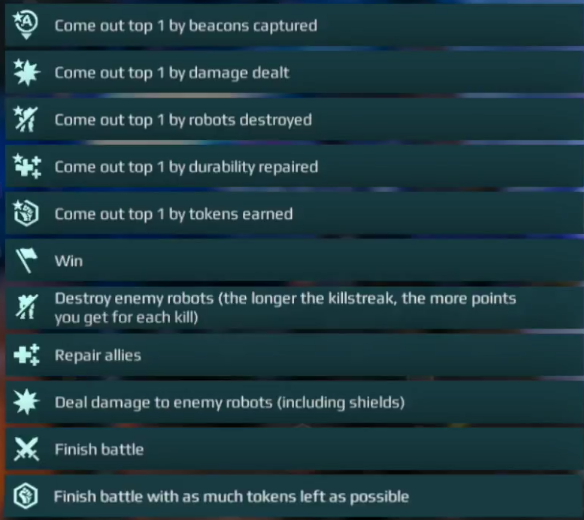 But wait, there's more: you get more Honor in higher leagues. Fighting there is harder, and taking that extra challenge has to be rewarded as well.
At this point, Honor is used for opening Battle Reward chests and also affects how much experience your pilots receive.
Silver and Gold rewards still work the old way (for now): you get Silver for damage and Gold for beacons. But in the end, we plan to rebuild most of the reward system on Honor to make it more fair, exciting and clear. Stay tuned!
Usability and bug fixes
[Pilots] Fixed a bug with Quartermaster skill: now it should be properly usable when you're low on power cells
[Pilots] Fixed a bug with Adamant skills causing them to remain active when requirements are not met
[Pilots] Multiple minor fixes
[Tyr] Fixed placement of top weapons on Tyr. This should prevent homing-missiles from hitting the ground when they shouldn't
[Visual] Fixed a bug causing lighting in hangar to become overly bright in certain conditions
[Performance] Fixed a bug causing sudden FPS drops on certain devices