In Short
Black Market rebalance
Reduced upgrade timers (again!)
New Ares paint jobs
FFA tweaks
Bug fixes and optimization tweaks
Update 4.8 is mostly focused on technical changes. We work on stability, moving some parts of the game to the new tech to build a foundation for future changes.
Also, Lunar New Year visuals and music are gone — until the next year!
Also check
Kyle Rogers' Story
Devstream (01.03.19)
Black Market rebalance
We keep improving the Black Market to make it more clear and fair. This set of changes is the biggest one we ever introduced.
First, if you get something from the chests, it will either be universal resources (Silver, Gold, Keys) or items you can immediately start using.
We also got rid of Boosters. As handy as they are, that's not a very fun reward to get — so we removed them from all chests.
As before, all possible chest contents are listed in the game. Be sure to check them out!
Bronze Chest
Only resources
Whether you're a new or old player, everyone could use some Silver or Gold. Now when you open the lesser chest, you can be sure that you'll receive exactly that.
On all levels, this is your go-to option for turning keys into silver and gold. There's also a chance for key packs (10, 20, 100) which will help you progress towards the Super Chest — or just to a bigger reward.
Silver Chest
Resources and items
Bigger Silver (100k-200k) and Gold (30-100) packs, as well as middle-tier equipment. No components.
Gold Chest
More resources and even better items
No keys, no components. Only complete high tier items, as well as the biggest Silver (3M-10M) and Gold (1000-5000) packs.
Super Chest
Strongest, newest items
You get the Super Chest after opening the same number of regular Black Market chests as before.
But now every time you open the Super Chest, you receive something you can use right away. No Components, no resources — only full items, only top tier stuff.
Every time you open the Super Chest, you should get something big. That's the rule now.
Reduced upgrade timers (again!)
In 4.7 we reduced the amount of time you need to upgrade your items. Now guess what? We do that again.
Full list of changes: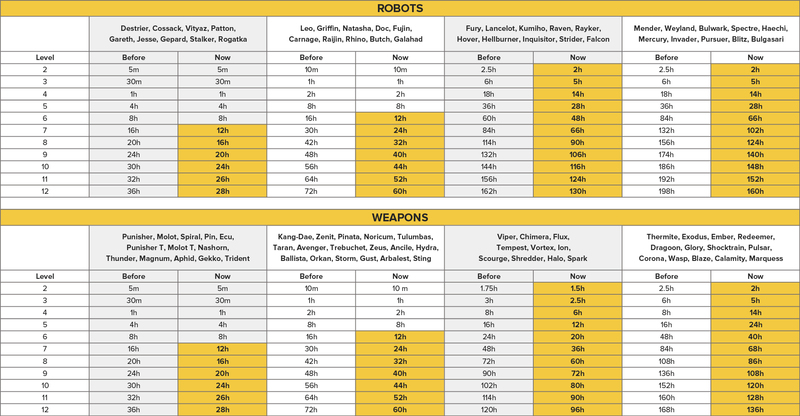 Ares paint jobs
Magma, Obsidian, Amber
Free For All tweaks
Statistically, in Free For All matches take longer than in any other mode — at least, for 2-3 players that aren't knocked out during the first couple of minutes.
To prevent FFA shootouts from dragging, we reduce the amount of respawns a robot can have by increasing the token cost of 2nd, 3rd and 4th respawns.
Tokens to respawn

#

Before

Now

1

3

3

2

5

7

3

10

15

4

20

30

5

30

30
Pantheon: coming to Workshop
March 5 — Nemesis
March 12 — Hades
March 19 — Ares
Bug fixes
Hellburner's ability sound now plays properly in sync with its animation
Lock-down Ammo effect doesn't trigger after module's duration is over
UI now supports Android devices with wide aspect ratio and display notches
Improved stability across all devices