Team B is an audio drama based on the War Robots game universe. You will follow the squad of 5 legendary pilots that went on a seemingly regular mission but ended up stranded on a barren planet with half their robots destroyed and pretty much nowhere to go. Now it's up to them to figure out who's behind their failure and how to get out of there!
Listen on Youtube (with subtitles!), Spotify, Google Podcasts or Apple Podcasts.
Follow the story of Linda, Arnav, Ash, Louis, and APPM-3TR in this 6 episode mini-series. New episodes coming weekly.
Why audio?
We thought it's a perfect format for our first foray into long-form War Robots storytelling, as well as a good medium for a mobile story in general. You can listen while you are playing, or while you're doing your chores or going/driving somewhere. We believe that this is a simple, yet incredibly atmospheric way to tell a gripping story.
Can I listen to "Team B" if I have never played War Robots or played only a little?
Team B was written and directed as a completely standalone story. That means you can enjoy it with any WR experience or character-focused sci-fi stories. However, if you play War Robots, you'll definitely catch a lot of references to the existing lore of the game.
In what languages "Team B" is available?
All six episodes are recorded in English. If watching the Youtube-version, you will have an option to use Russian or Japanese subtitles. Other translations may come later.
If you want to contribute to translating Team B to your language, please contact us at community@pixonic.com
Is the show "kid-friendly"?
Characters in Team B use mild swearing at times, which is dictated by the situations they end up in. We'd say, if you are old enough to legally play War Robots, you can listen to Team B safely. Check the age rating on your app store page!
Is it serious/epic/funny/sad?
While Team B has lots of serious and suspenseful moments, we wanted to make it a fun listen first and foremost. Maybe the show will even make you laugh sometimes, who knows?
What's coming next?
We see these 6 episodes as a pilot (no pun intended) season. If you will enjoy them (we really hope you will!), we might extend Team B for season 2. And other projects set in the War Robots universe will become much more possible. We will also look into translating the show to other languages, so people from all over the world can enjoy it as well!
Let us know what you think by commenting on Youtube or by dropping an email to community@warrobots.com.
Get your earphones ready, and join us in Springfield. You're in for quite a ride!
WR Tofsla
Community Lead & Team B Producer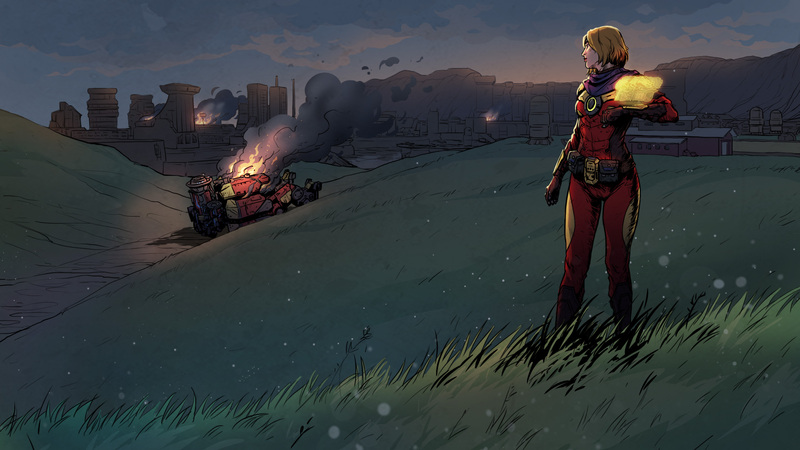 Credits
Cast
Brandon G Green
Nathan Blades
Felix Trench
Graham Rowat
Niko Gerentes
Christopher Byron
Written, recorded, and directed by Beth Crane and Hedley Knights (Battle Bird Productions)
Sound design Ilya Viktorov
Team B Creative Director Artemiy Kozlov
Story background by Sophie Solomonova
Lore and gameplay consultants Ted Gerasimov, Erik "Ksiro" Paramonov
Sign language consultant Caroline Mincks
Art Egor Gafidov, Pyotr Morozov, Anton Trofimov, Dmitriy Khapovitskiy
Music Ilya Viktorov, Atoraye
Youtube version Oleg Telitsyn
Executive Producer Max Fomichev